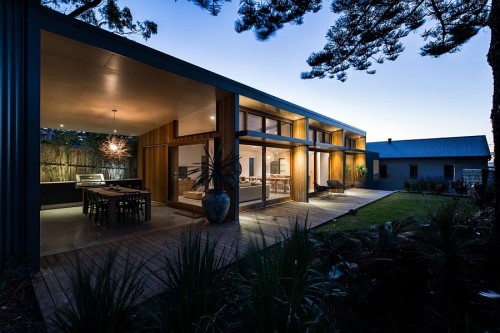 If you own a property and wish to make further developments on your plot of land and make an extension to your home, it's worth researching if you need planning permission for the project which you would like to undertake. There is a local authority term known as Permitted Development (PD) which allows for an array of work to be carried out which doesn't require you to seek additional approval.
As we are mostly concerned with eco homes and the development thereof it might be worth noting the specific additions you can make that do not require local planning permission. Solar panels for example are a welcome inclusion, as long as the assembled structure does not protrude by more than 20cms above or to the side of a property – this excludes chimney height. The same applies to water capture facilities which need submerging in the ground or any external changes to windows – aside from bay windows.
The Majority Of Extensions Are Permitted Development
Internal changes to a property do not require permission either and are PD, as long as you are not changing the overall footprint of the building. Though certain building regulations most be adhered to when it comes to structural changes such as supporting walls and works on existing electrical installations and cabling. An electrician or architect will be able to assist with these protocols.
Transforming your home so that it is more energy efficient can involve the addition of solid wall insulation, loft and cavity wall insulation, rewiring of the
 electrics, changing from gas to a wood fuel system and putting in place underfloor heating either electrical or water systems – all of which can be applied to any new eco home extension.
None of the aforementioned requiring any type of planning permission, simply adherence to building regulations and carried out by certified workers. Use qualified engineers and contractors to ensure the work is carried out safely. Relevant industry bodies will provide you with guidance on the correct accreditation. Many sustainable and eco centric product manufacturers are training utility and constructions teams across the country to offer site surveys in advance of any new eco installation.
If you have room in your garden for an extension and wish to proceed with such a development, you don't always need planning permission. Though it is always a good idea to enlist the services of a local architect to assist with drawing plans which are easily understood by any building contractor. Situations in which you are granted PD are as follows:
Extending your property by no more than 49% of current building
The character of the building must be transferred to the extension
Raised platforms, balconies and verandas are not permitted under PD
Must not be taller than the height of the current build, extend higher than 3 metres if within 2 metres of property boundary and strictly no building at the forefront of a dwelling if facing a highway.
Planning permission laws were stripped to their bare bones a several years ago allowing people to build first and second story extensions, conservatories, decking and even include swimming pools in garden areas as long as no more than 50% of the open land area is changed. Plus the allowance of unattached external buildings enabling home owners to benefit from less paperwork to achieve individual homes that bring value both financially and in additional comfort.
Eco Home Extension Ideas Without Planning Permission
Generally when a home owner thinks about proceeding with an extension, the environment doesn't jump straight out as an avenue to care about, especially as alternative materials that are eco ranked can cost a little bit more. However when discussing options with an architect, issues such as electricity bills, water usage and energy savings will arise and there is no better place to begin changing your home's energy habits than with a new extension or addition to the home.
If a building allows more light through then this lengthens the duration of which natural light can be used throughout the home. If you are considering a narrow extension which may fit a long kitchen inside with utility room and you are building to only one storey, consider a roof light instead of fully enveloping your new construction in a slate roof with a window that probably overlooks your fence and a small patio area with very little continuous natural light during the day.
A roof light or skylight will allow 40% more natural light to enter the building and is perfect for those single floor extensions. Couple this with the addition of solar panels, should unopposed views allow, then you have vastly cut down on usage of electricity in a room where a lot of time is spent and added solar panels to meet your home's energy needs. Of course, these eco designs can cost upwards of 10% more for materials, however in the long term savings should be made. All of which can be calculated in advance of any new extension build taking place.
Environmentally Friendly Eco Building Materials For Homes
Aside from the obvious loft insulation and use of LED light bulbs there are alternative building materials which can aid in bringing your new extension to life that are more environmentally friendly and can save you money on energy bills in the very near future once complete. What's the difference between eco materials and normal building materials?
Quite simply there are three forms of thought:
There are eco materials which have a background in being derived from recycled products and have a low carbon footprint.
Those which are environmentally friendly when used (think CFCs as opposed to non gas sprays) and can also be recycled easily after or woods which are sourced from sustainable forests including fast growth manufactured products such as engineered timber.
Lastly there is the energy saving features of the materials which either retain more heat, offer increased air tightness or enable better sound proofing – those cheap timber frames need better insulation to offer the correct results.
An architect will advise on these issues when designing your project and developing outline plans and progressing with more detailed building regulation drawings which list the materials, amounts and sizes to be used.
The types of alternative eco materials which an architect may recommend are:
Celcon foundation blocks or Fibolite
Paints and decorating products which are low VOC, low carbon and manufactured from renewable and recycled content
Aggregates which are derived from recycled products which are again easily reintroduced to the recycling chain
Cleaning products to be used on site which are environmentally friendly. No land pollution or unhealthy chemical seepage
Sustainable materials that are not only beneficial to an eco home's energy saving rating but fully recyclable
Code For Sustainable Homes And Surveys For New Eco Builds
Your architect will inform you of the variety of laws pertaining to new build homes and extensions. The Code for Sustainable homes (CSH) is a rating from level 1 to level 6. Extensions do not always require this certification, it usually only pertains to whole new buildings, however it is always worth building to current standards. It is also handy to have if wishing to rent out to a housing association in the future.
Whenever you are contemplating the use of relatively new technology it is recommended that you get a survey completed for the relevant additions. These can range from:
Solar Thermal System designs and site plans
Waste management planning
Sustainable Drainage
Ground Source Heat Assessments
Renewables assessments
SAP
Ecology
Flood risk
Acoustic and air tightness testing are also regular sub projects for any architect and building contract to consider on an eco extension.
Whether you are installing solar panels or submerging a rainwater harvesting tank, choosing a roof light instead of enclosed roof or underfloor heating and biomass boilers to heat your new extensions, it is imperative to go through all the pros and cons and ensure the feasibility of any work to be undertaken. An architect will assist in all these processes with external eco advice taken on board from suppliers and fitters.
Everything from build fabric to water management, eco materials to renewable technologies will be the focus point of any new eco home extension. Often work carried out on a new extension can be carried through to the main home itself, whether erecting new separate buildings or converting a garage or loft, energy used in the new part can overflow and be useful when extended to the rest of the property.
While few go all out to be more environmentally friendly and ensure the products they use are sustainable and recyclable, the selling point for using eco materials for an extension is as simple as this: If more heat can be contained, more light allowed into a property, better use of fuel energy, water and waste management can lead to lower energy bills then it is worth using eco materials and sustainable products – a longer lasting home that saves money every year without fail.