Enlisting An Architect For Elevations, Planning Permission And Project Monitoring
Although two separate sections, it is important to read this page in tandem with the sourcing and finding a plot of land article. Before buying land it is imperative to have planning permission in place at least for the outline of the building. This can be achieved through the seller obtaining such requirements or by the buyer – you – submitting plans which have been outlined by a professional architect.
An architectural company or individual architect can be employed by anybody for any stage of the project. Most tend to use an architect's services for the elevations and plans of the initial building with assistance on detailed drawings for materials. Though it is recommended that you ensure building regulation plans are carried out by the same architect directly after planning permission is approved. By talking comprehensively about the way materials work with nature, enabling heat containment during the winter and cooling during the summer for the most effective concept eco home build.
There are also a variety of other issues that a specialised eco home architect can advise upon. From sourcing different materials to using alternative foundations, such as the Scandinavian foundation
You are also able to discuss a wide range of contemporary ideas to supplement your new sustainable home. From solar panels and natural lighting through to roofing materials and insulation, as well as planning for external rain collecting implementation via rainwater harvesting tanks which may need submerging nearby with adequate drainage and pipes laid. This is best discussed before building begins as on site machinery can have a dual use and associated projects completed as appropriate and in a timely fashion.
Initial Planning Application, Building Outline And Elevations
When using an architect from the outset, their tools and tips can be invaluable. The procedure for submitting plans to the local council's planning department can often be mired in regulations and strict guidelines that need to be followed and adhered to. A professional architect will have been through this process several times before and know the ins and outs for quicker and more correct acceptance.
While it is important that any buyer of plots of land or someone wishing to self build does as much research as possible. An architect will offer thoroughly detailed feasibility studies and research fully the local planning guidelines, producing  proposed plans, elevations, site layout, cross sections, schedules, the outline specifications and a location plan.
Most architects will provide an initial free consultation which will enable you both to discuss the stages required to take your eco build construction into fruition. Due to the processes involved, an architect is best placed to review current local planning laws, so that time isn't wasted on plans that are not in keeping with the demands, traditions and beautification of the area.
When buying a plot of land it is essential to keep time on your side, redrawing plans and re-submitting to the local authority for assessment lengthens the time for evaluation and could see land sold to someone else. Alongside any feasibility study, a free consultation will involve build costs, alternative materials and plan suggestions and a full site appraisal offered.
If you choose to enlist an architect to draw up elevations and produce planning permission documentation, the plans, elevations and cross section will be put together by both freehand drawing and computer aided design (CAD) software. Often updated online via Google or another online software app to keep face to face meetings at a minimum, focusing time on the plans and paperwork instead.
Retaining An Architect For Building Regulation Drawings And Project Monitoring
Once agreement on plans have been achieved, the architect will place a full and comprehensive Planning Application submission with the local authority. As soon as the submission is granted the go ahead, then you can truly begin to realise your eco home project by proceeding with more detailed building regulation drawings which will be used by a builder or construction company to place bids for tender. It is possible that they too will have alternative solutions to either offer better sustainability or to lessen build costs.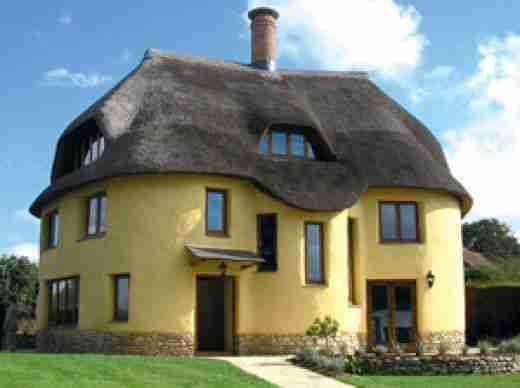 In our view, it is important to retain the services of an architect throughout the build of the structure. The architect can act as a middle man between home owner and contractors, ensuring the building is built to exact specifications and the correct materials are used negating unforeseen problems in the future because the home owner tends not to be so wise to all the structural integrity and correct usage of materials, whereas an architect will know immediately if incorrect concrete mix is used or timber frames are inadequately proofed or insulated.
By retaining the services of your architect, you can also keep an eye on costs and be sure that a builder won't add labour for spurious work which should be undertaken by the initial remit. The cost of the eco build, labour, materials and a schedule taking into account weather during the time of year should be adhered to and by trusting your local architect with on site visits you can be assured that the build is going ahead as planned within the costings allotted.
An architect is the most valuable resource which can be tapped for information and knowledge at every stage of your eco home build.
Most architects offer a free consultation, use this to your advantage in gaining as much knowledge before a fee is paid and to understand your future relationship within their services.
An architect can handle the local authority planning permission process, ensuring correctly drawn elevations, detailed plans and building regulation drawings with fastidious research.
An eco home contains far more build issues than your average home. Knowledge of how materials work to keep an house cool or warmth contained and the variety of additional sustainable materials and accessories will all be proffered by your architect. This is an industry that constantly updates their awareness of new concepts.
Retaining an architect will ensure your project stays on schedule, costs kept to a minimum and doesn't stray off budget and that the structural integrity of the new eco home build is assured at every stage.
When you open up your project for tender, an architect can assist in liaising and narrowing down contract options. The fee for retaining an architect throughout the project when managing a self build is well worth the additional expenditure for both peace of mind and understanding long term each step of the build process.
To receive a free consultation and to discuss requirements for your plot of land, to draw up an initial concept before you submit planning permission, to ensure a proper feasibility study is undertaken and to gauge build costs. Fill out our no commitment, free consultation form so we can ensure a local architect attends to your needs straight away.